Innovative design
Reliability
World class service
SINGLE-MOTOR INTEGRITY WITH AC VECTOR DRIVE AND MOTOR
Precision control for greatest efficiency and highest quality production at greater speeds.
GEC engineers its Rewinders with a single exceptionally powerful motor that drives air clutches - which are in turn monitored by the PLC Tension Control Module. GEC therefore combines the advantages oh high power with precise synchronization of rewinder and press speed.
The result is higher quality rolls, plus the ability to comfortably operate at high speeds, even with delicate material, and even without shutting off perfs.
The Self-Diagnostic Drive Control is located on the rewind unit for easy accessibility, while eliminating the need for and cost of a separate control unit.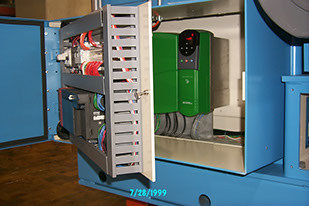 Charter Machine Company©, previously known as Roediger©, is a de-watering machine manufacturing company, owned and operated by Graphic Equipment Corporation©