Innovative design
Reliability
World class service
EASIEST SET UP AND OPERATION WITH GEC USER FRIENDLY, COLOR TOUCH-SCREEN INTERFACE.
Virtually foolproof, single-screen set-up and use ensures highest productivity.
GEC Rewinders are remarkably easy to use. Just input the data on the touch-screen - and GEC Rewinders set themselves up. They even adjust automatically for varying specified core sizes.
Self diagnostics are in plain English, and troubleshooting is simplified.
Passworded management screens provide all production statistics for designated time periods, including a history of product wound and splices completed.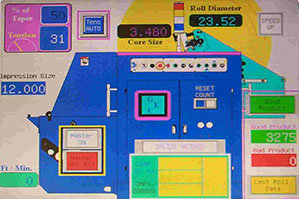 Charter Machine Company©, previously known as Roediger©, is a de-watering machine manufacturing company, owned and operated by Graphic Equipment Corporation©